Halcyon Books
Encyclopedia of Unusual Sex Practices

, by Brenda Love, hardcover, 335 pages, Barricade Books, Inc.,
Available from Amazon.com as Paperback or Kindle.

More than 750 entries and 150 original illustrations on the world's strange sex activities
---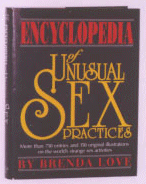 Filled with more sexually related facts and fancies than you could ever have imagined.
This book contains over 700 entries and more than 150 original illustrations, in one beautifully illustrated, oversized volume. The author provides short, fun-loving descriptions of Computer Sex, Erotic Balls, Love Potions, Pubic Hair Sculpturing, Yoni Worship, and hundreds of other topics, as well as longer essays and historical surveys on important subjects ranging from Adultery and Birth Control to Sexual Harassment and Transvestism.
Open to any page of this book and you will learn which practices are considered safe sex and which aren't. You'll also read about the far extremes of sexual activity -- all over the world and right around the corner in your hometown -- where defilement, fetishism, flagellation, hot wax, even suturing and bloodletting might be accepted variations. This is a book to expand both your mind and your sexual vocabulary.
This book is not expected to be a bedside guide for most people. But everyone wants to know what others are doing behind closed doors. This is the book to satisfy that curiosity.
The author lectures internationally before various groups on unusual sexual practices, and has produced a video for distribution by the Institute for Advanced Study of Human Sexuality. Her column, "Unusual Sex Practices" appears regularly in the national "Not Naughty News" newsletter. Various sections of this book were reviewed by an editorial board of 15 internationally recognized sexologists.
---
"A first-class reference source for those seeking to understand the range of human sexual expression... At last, a book that tells people what all those other people are doing!" --Ted McIlvenna, President, The Institute for Advanced Study of Human Sexuality, San Francisco, California.
This book is unmatched in its coverage of the technical and vernacular terminology of what is called 'kinky sex' on the street, 'perversion' in the courtroom, and 'paraphilia' in the clinic. There is information here to benefit the specialist and the beginner in search of self-understanding equally." --John Money, PhD, Director, Psychohormonal Research Unit, Professor of Medical Psychology, and Professor of Pediatrics, Emeritus, The Johns Hopkins University School of Medicine, Baltimore, Maryland.
---
To order branch to Amazon.com
Return to Home page
---